De rollen van de borstel of de rolborstels aangezien zij ook gekend zijn worden, gebruikt voor het borstelen machines en voor doek het eindigen verrichtingen. Wij bieden speciale rolborstels voor de geneesmiddelenindustrieën, strookborstels, ook instrumentenborstels en dergelijke andere verwante producten aan.
Eigenschappen
 
Vrij lopend vermogen om zeer lichtgewichtladingen te vervoeren.

Lage kostenalternatief voor de rollen van de roestvrij staalbuis.

De plastic transportbandrollen zijn beschikbaar in grijs en blauw één van beiden.

Ideal voor gebruik in vochtige, natte of wash-down milieu's.

Niet-merkt voordelen wanneer in contact met de witte hoogste oppervlakte van vlakke of modulaire riemen.

Normaal wordt het borstelBroodje gemaakt na het doen van ebonietdeklaag op Broodje vermijden rustend op staaloppervlakte. Het verschillende type van borstels is beschikbaar vanaf specifieke vereisten zoals Nylon borstels, synthetische borstels, dierlijk haarborstels, voor verschillende toepassingen die het borstelen en het schoonmaken van dekens omvatten.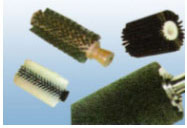 Ons gamma van industriële borstelrollen is duurzaam, betrouwbaar, dimensioneel nauwkeurig, bestand corrosie & vochtigheid. Deze industriële borstelrollen kunnen in diverse industrieën worden toegepast als bouw, druk en machine behandeling. Wij bieden ons gamma van industriële borstelrollen op aan hoogst concurrerende prijzen.