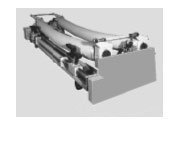 Het koord-Aligner "CONPAPTEX" centraliseert apparaat dat speciaal voor band-koord machines zoals de re-Spoel van de Voering, Kalenders, Onderdompelende Installatie, laten-weg en de Posten van het Einde wordt bedoeld. 
Deze Eenheid wordt wijd gebruikt in de Industrie van de Band. 

De eenheid bestaat uit twee aantallen de verbonden as gebogen van Broodjes lichte plichts of op zwaar werk berekend vanaf toepassing/stoffenspanning.   Beide zijstoffenranden zijn ontdekte sensor en nemen correctie zoals vereist in de verbonden broodjes van de asboog die onafhankelijk beide kanten door te ontdekken gegeven door elke zijsensor werkt.  Beschikbaar met hexagonale schacht " vierkante staaf 1-1/4 voor broodjesdiameter 110mm of met 75mm schachtdiameter en diameter 160mm van het Broodje voor op zwaar werk berekende toepassingen.