Wikkel het leiden met spanningscontrole (af loon van spoelsysteem)
Wikkel me met rand/lijn het leiden en spanningscontrole af
Gecontroleerd wikkel het leiden af
Beschrijving: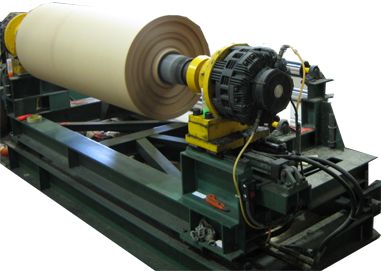 De standaard adapterbasissen bestaan uit een stationaire floor-mounted kader of een plaat, een vier eenheid, een standaardlager en steunsysteem, en een bewegende kader of een plaat. Een op zwaar werk berekende servocilinder wordt opgezet tussen de kaders en de lagers. De servocilinder beweegt afwisselend de hogere adaptergrondplaat in antwoord op hydraulische signalen van de machtseenheid. 
De standaard assemblage van de adapterbasis bestaat uit kantoorbehoeften opgezet kader, dat het bestaan afwikkelt/opnieuw opwindt tribune met schacht en onderbrekingen goedkeurt. In wikkel gids af, zijn de nuttelozere rollen in bijlage aan het bewegen van kader vóór vaste detectors om Web te stabiliseren & voor snijmachinemachines niets uit te voeren. In de spoelgids, is de sensor in bijlage aan het bewegende kader na vaste nuttelozere rollen, met voldoende omslag om het perfecte winden van materiaal te krijgen. Wij kunnen speciaal soort maken het opnieuw opwinden structureren waar de motoren ook zich samen met het opnieuw opwinden van broodjes bewegen. 
Toepassingen:
De CON-PAP-TEX adapterbasis wordt ontworpen voor gebruik in toepassingen waar afwikkel of tribune moet bekwame verschuiving zijn opnieuw opwind. Door de adapterbasis onder de tribune te passen, wordt een eenvoudige en economische installatie verkregen. Wegens de vrij hoge massa van wikkel of wind broodjes af opnieuw op, wordt zijn gebruik vaakst gevonden in toepassingen. Waar de reactietijd vrij langzaam kan zijn en waar de nauwkeurigheid niet overdreven kritiek is. 
In Rewind gids is de detector in bijlage aan het bewegende kader vóór vaste leegloper met voldoende afwijking om Web te stabiliseren.
In Unwind gids maakte de nuttelozere rol bij het bewegen van kader vóór de vaste detector vast om het Web te stabiliseren. 
Het afwikkelen zich:
Als de materiële wond onregelmatig is, leidt dit systeem de randpositie en liet het regelmatig in het verdere proces. Het nuttelozere broodje beweegt zich met de afwikkelende spoeltribune. 
·         Zet de detector vast en zoals dicht bij het nuttelozere broodje op mogelijk. 
·         Indien het het weggaan Web vormde een hoek bij het deflectorbroodje meer dan 30°. als niet mogelijk, pas een toegevoegde speldeprik toe. Belangrijk, staat niet de Webmisstap op dit broodje toe. De afstand tussen twee broodjes zou meer dan de maximumbreedte van het Web moeten zijn.