CON-PAP-TEX de Staaf van de draai met Web dat leidt: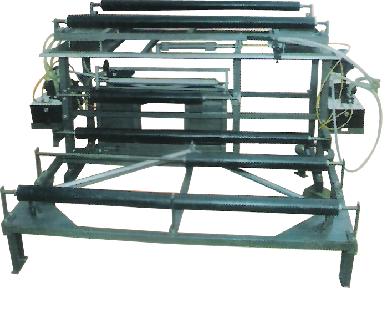 Algemene Beschrijving en Bouw
·         De Systemen van de Staaf van de Keerder van de lucht worden ontworpen en vervaardigd om bijzondere klanten aan te passen
      toepassing. Er is zes grootte voor ingang 90° of omzet 180°, met zich Webbreedten het uitstrekken
      van 100mm tot 3 meters, voor horizontale of verticale steun.
·         De eenheden worden gebouwd als freestanding of Bolton modules, volledig met het nivelleren van steunen en het vastbouten onderaan gaten. Zij worden ontworpen om bestaande machine en plaatsvoorwaarden aan te passen.
·         Het kader is rechthoekige holle sectie met gespecialiseerde hoek die opnemend het fijne aanpassingsmechanisme en opzettend voor de Staven van de Keerder vastbindt.
·         De staven zijn tubulair staal met geplateerde de luchtgaten van de klokmond, grond, opgepoetst en hard chroom. De slag van de lucht leidt tot een luchtfilm bijwoont aan de staaf.
·         Door aangewezen opzettende posities te kiezen, kunnen een verscheidenheid van configuraties worden verkregen om een keus van ingang en uitgangsvereisten toe te laten.
·         De rollen van de weg zijn normaal aluminium, statisch of dynamisch evenwichtig.
·        De lucht voor oprichting vereist 5 CFM per 100mm Webbreedte bij 10ins aan 18ins W.G. afhankelijk van Webspanningen.
·         Directe de ventilators opgezet op elke Staaf van de Keerder kunnen op het tijdstip van vervaardiging (optie) worden geleverd.  Voor smalle Webbreedten en speciale toepassingen kunnen de gaten van de luchtoprichting voor het gebruiken van samengeperste lucht worden verminderd of zonodig worden geschikt. 
·         De het draaien staaf wordt gebruikt waar een draai 90 in de richting van het Web, samen met wat aanpassing van de Webgroepering wordt vereist.
·         De het draaien staaf is schuin geïnstalleerdp van 45 aan zowel de invoer als outfeed richting van het Web.
·         Het Web windt zich rond het draaien staaf 180 en verlaat recht het het leiden apparaat aan de invoerpositie.
·         De Webweg verbeteren tezelfdertijd de het draaien staaf over wordt bewogen outfeed richting (met andere woorden overeenkomstig de invoerrichting) volgens het leidende signaal.
·         om het materiële spanning draaien te vermijden kunnen de staven van een facultatieve luchtverbinding worden voorzien die een beschermend luchtkussen tussen de het draaien staaf en het Web zet.