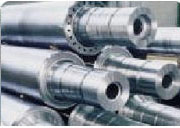 In het het kalanderen proces, worden de precisiebroodjes gebruikt om te waarborgen dat het definitieve product optimale eigenschappen heeft. De broodjes die voor deze doeleinden worden gebruikt moeten uiterst aan hoge normen voldoen. De broodjes van de kalender van maximumprecisie met betrekking tot meetkunde, eind en oppervlakte eindigen worden geleverd voor gebruik in uw ononderbroken plichtstoepassing. 
Onze broodjes worden vervaardigd om precies aan de specificaties van klanten te voldoen. Zij worden ontworpen en in nauwe samenwerking met het eind - gebruiker geproduceerd. De structurele en thermische spanningen worden gecontroleerd door broodjesontwerp en productieervaring.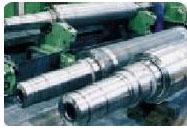 De broodjes worden volledig geïnspecteerdu. Elke productiestap is gedocumenteerd, omdat de volledige kwaliteitsverzekering een vanzelfsprekendheid is. Het onderzoek en ontwikkeling wordt beschouwd als middelen van constante verbetering van materialen, processen en de dienst. 




Wij kunnen broodjes aanbieden die van diverse materialen worden gemaakt:
·         Gekoeld gietijzer (kies gegoten uit)
·         Gekoeld gietijzer met nodular gietijzerkern (samenstellingsafgietsel)
·         Grijs gietijzer
·         Hoog chroom-legering speciaal gietijzer 
Onze broodjes worden vervaardigd gebruikend moderne CNC machines in alle productiestadia, is de maximumprecisie gewaarborgd met betrekking tot cylindricity, rondheid, concentriciteit en oppervlaktekwaliteit. Naast cilindrisch vat allerlei kronen malen, evenals speciaal broodje zijn de profielen die, mogelijk. De broodjes kunnen met mat worden geleverd, gegraveerd of golf eindig. 
Gebruikend olie of water verwarmingssystemen, rol het malen temperaturen van zelfs 300 °C kan worden bereikt. Dit verzekert maximumprecisie voor het broodje wanneer het tot verrichtingstemperatuur wordt verwarmd.  Onze deskundigheid, die het resultaat van ononderbroken onderzoek en ontwikkeling op het gebied van het superfinishing is, staat ons toe zelfs om broodjes met een onberispelijke spiegel te produceren eindigt.