De Stukken van de afstand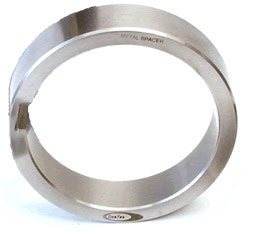 Als belangrijke component om te scheuren lijn het bewerken belt de afstand voor de schijfspel van de overarmseparator een essentiële rol in vestiging een scheurend lijnhulpmiddel. Deze ringen worden verstrekt om een eenvormige gegevens verwerkte bepaalde afstand tussen de roterende scheurende messen van de snijmachinesnijder te handhaven. De afstandsringen zouden de zelfde vorming op termijn van afmetingen en vorm moeten hebben zoals dat van de snijder of het scheurende snijdersmes dat in de verrichting van knipsel of het scheuren wordt gebruikt, wordt het ook opgemerkt en geadviseerd om de grootte van de afstandsringen als beetje te gebruiken kleiner zoals dat aan vergeleken van dat van de messen die voor het knipsel worden gebruikt of de het scheuren verrichtingen zodat de messen in het materiaal kunnen binnengaan dat is of wordt gesneden door de messensnijder en ook voor messenonderhoud als het malen en het scherpen van de snijkanten van de messen slitted.

De nauwkeurigheid van de Ringen van de Afstand die met de Schijf van de Separator worden gebruikt Overarm kan de Prestaties regeren van Scherp/het Scheuren van Verrichting

CON–PAP–TEX zijn Eerste Leverancier & Fabrikant van de Ringen van de Afstand voor over de Schijf van de Separator van het Wapen een Belangrijke Component van het Bewerken van de Snijmachine.