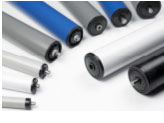 Deze Plastic rollen die wij aanbieden worden algemeen vervaardigd van de hoge buis van effect stijve pvc, stevige hoogte - dichtheidspolyethyleen & ultra hoog - moleculegewichtplastiek. 
Wij bedekken diverse types van plastic synthetische deklagen voor de drukindustrieën met een laag. Onze twee belangrijke synthetische deklagen zijn corvel en rilsan. Synthetische materialen die weerstand tegen chemische producten terwijl het aanbieden van uitstekende schuring, slijtage en effectweerstand van een lage coëfficiënt van wrijving voorzien. 
De selectie van roltype en het deklaagmateriaal hangen van de toepassing en het Webmateriaal af. Wij vervaardigen brede waaier van plastic rollen voor gevari??rde toepassingen. 
Eigenschappen:
·         Vrij lopend vermogen om zeer lichtgewichtladingen te vervoeren.
·         Lage kostenalternatief voor de rollen van de roestvrij staalbuis.
·         De plastic transportbandrollen zijn beschikbaar in grijs en blauw één van beiden.
·         Ideal voor gebruik in vochtige, natte of wash-down milieu's.
·         Niet-merkt voordelen wanneer in contact met de witte hoogste oppervlakte van vlakke of modulaire riemen.