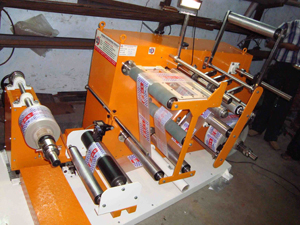 Dit systeem gebruikt een gedrukte lijn of een ononderbroken flard of om het even welk patroon op het Web. Het systeem handhaaft het gekozen teken (Gedrukt lijn of Patroon) in nauwkeurige zijpositie ongeacht de positie van de Webrand. Dit systeem wordt wijd gebruikt in het scheuren van machine 
Inleiding: 
·         Normaal, wordt het pneumo-Hydraulische Leidende Systeem van het Web gebruikt voor om het even welke het winden &
      het afwikkelen zich toepassing voor het leiden van het Web om de verspillingen van het materiaal te verminderen & hoge productieoutput met minimummensenmacht te krijgen.
·         Nu, ziend de nieuwe vraag van de markt & weinig beperkingen van het pneumo-Hydro Leidende Systeem van het Web, hebben wij Microprocessor geïntroduceerdn het gebaseerde volledig Elektronische Leidende Systeem van de Lijn/van de Rand met Fotocel terugkoppelt.
·         Dit heeft speciaal toepassing op de Machine van Rewinder van de Snijmachine om om het even welk materiaal zoals Laminaten, Duidelijke of Gedrukte Polyester of ander materiaal te scheuren. De fotocel zal de kleur, van de Lijn of van de Rand Gids volgens uw vereiste ontdekken & zult u het eenvormige scheuren krijgen.
·         De Motor PMDC wordt gebruikt voor voorwaarts-omgekeerde beweging van het karretje en het wordt gekoppeld aan de regeling van de Schroef van de Bal voor betere nauwkeurigheid. Het karretje (het Leiden Assemblage) wordt verstrekt op ontroller van het scheuren van machine & wordt het geleid door Lineaire Dragende Regeling.
·         Op ons Controlemechanisme Twee worden de Digitale Montages verstrekt voor lichte & donkere kleurenmontages. De auto/Handwijze wordt ook verstrekt samen met linker & juiste beweging van het materiaal. Het servo Centrum wordt verstrekt door de Schakelaar van de Grens.
·         De fotocel zal de lijn of de rand van het materiaal ontdekken & dienovereenkomstig zal het verwijzing naar de motor voor voorwaartse of omgekeerde beweging geven.
DE ELEKTRONISCHE EIGENSCHAPPEN VAN DE CONTROLE
·         Het Systeem van de Controle van de positie.
·         Regelbare spoorcontrole met afwijkingsvertoning.
·         De LEIDENE emissie die biedend de mogelijkheid die om op alle contrast & achtergronden te werken, verschillende oppervlaktebehandelingen voorstelt ontdekt.
·         Ultra het sonische rand ontdekken of op aan het elektronische ontdekken.
·         Hoge reactiemotor aangedreven actuator.
·         De schakelaar van de nabijheid die voor de automatische grenzen van de eindreis wordt verstrekt.
OPTO ELEKTRONISCHE ONTDEKKENDE SYSTEEM VAN DE LIJN OF VAN HET CONTRAST           
·         De LEIDENE ontdekt emissie die biedend de mogelijkheid om op alle contrasten, met een werkende afstand van 9 mmmax. te werken Tussen sensor en Web.
·         Snelle reactietijd ongevoelig aan omringend licht.
DWARS MECHANISME           
·         Actuator van de Motor PMDC die met hoge reactie wordt gecontroleerd.
·         Hoog reactiemechanisme van versnellingsbak met lineaire schroefaandrijving die voor lineaire correctiebewegingen wordt ontworpen.
·         Gemakkelijke installatie en nul onderhoudssysteem.