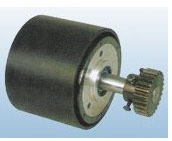 De Remmen & de Koppelingen van het poeder worden gebruikt zoals zich afwikkelen & de controle van de Torsie, met de Cellen van de Lading, Danser & de Controle van de Spanning opnieuw opwind, om CONSTANTE SPANNING te handhaven 
Ø kort, bestaat uit de koppeling van twee concentrische delen, het lichaam of het inputdeel die de gebiedsrol bevatten binnen het, gescheiden door klein ringvormig hiaat, een binnenrotor, of uit gezet deel.
Ø het ringvormige hiaat bevat een ferromagnetisch poeder, dat wordt geactiveerd wanneer de rol wordt geactiveerd.
Ø de resulterende stroom die wordt geproduceerd, gaat door het poeder over, veroorzakend het om zich op de stroomweg te richten, en er leidt langs tot een drijfband tussen input en uit gezet deel, de sterkte waarvan alleen door waarde van de stroom van D.C. bepaald wordt die op de gebiedsrol wordt toegepast. 
De Remmen/de Koppelingen van het poeder zijn de evenredige apparaten van de Torsie. De torsie wordt gecontroleerd door de opwindingsstroom te variëren. De torsie is strikt evenredig aan opwinding. Deze apparaten heeft minimale belemmeringstorsie, d.w.z. bij nul opwinding, is de torsie minimaal en dichtbijgelegen nul. Deze apparaten zijn voor de hoge toepassingen van de torsie lage macht. Rem & Koppelingen van het poeder worden door ons in brede waaier de classificatie die van de Torsie van uiterst kleine 0.3 KgM aan massieve 100 KgM begint vervaardigd, & komen in zelf gekoeld, gedwongen gekoeld en het water koelde modellen. Deze apparaten komen met de aanpassing van elektronika om uw veeleisendste toepassingen te ontmoeten      


De de magnetische Remmen & Koppelingen van het Deeltje zijn algemeen genoemd geworden remmen & koppelingen van het Poeder. Deze poederremmen & koppelingen worden vervaardigd door ons in brede waaier van uiterst kleine 0.3 KgM aan massieve 100 van de torsieKgM waaier deze in zelf gekoeld worden vervaardigd, gedwongen - gekoeld & water gekoelde lucht versie. De remmen & de koppelingen van het poeder zijn het echte apparaat van de torsiecontrole, is betekenen van het remmen of clutching van torsie strikt evenredig aan opwindingsstroom. 
De magnetische poederkoppeling en de rem bereiken bij lage controlemacht een hoge torsie die onafhankelijk van de misstapsnelheid is. Het onderscheidt zich door een eenvoudige bouw, een laag gewicht en een kleine vereiste ruimte. wegens dit voordeel worden de koppeling/de rem gebruikt voor de oplossing van vele technische problemen. Voor de diverse toepassingen zijn de ook aangewezen controleapparaten noodzakelijk. Door de opwindende machtskracht te veranderen, kan de over te brengen torsie oneindig veranderlijk in de waaier 1:30 de Remmen van het Poeder worden aangepast & bevatten de Koppelingen, zoals hun naam voorstelt, een magnetisch poeder. 

De elektrostroom die door de rol overgaat produceert een magnetisch veld, dat het bezit van het poeder, van vrije stromende voorwaarde bij geen opwinding aan vast gesteentevoorwaarde bij volledige opwinding verandert. Waarbij een vlotte het remmen torsie wordt veroorzaakt door wrijving tussen rotor en stator. De de remmen & Koppelingen van het Poeder veroorzaken hun geschatte torsie bij nul snelheid. Het te testen element/Clutched, kan bij stilstand worden geladen om de beginnende torsie te bepalen.  
De Koppeling van het poeder
De holle Koppeling van het Type 
Wind met Koppeling opnieuw op